Action Cameras are basic cameras used by professionals to record extreme sports events. They are portable gadgets that can easily be mounted on almost anything. Many YouTubers prefers to have an Action Camera as an all-around. 
One of the most famous action cameras in the market is the YI 4KAction and Sports Camera. This camera is one of the few ones with 4k high-quality resolution. Ever since YI Technology released it in 2016, it already stirred attention from many adventure vloggers, media practitioners, and other sports enthusiasts. 
YouTubers who are tight on budget but still longs for a high-quality camera opt to use YI 4K Action Camera. Due to this phenomenon, it has been commonly known as the "Better GoPro for Less" and the "GoPro Killer" model.  
Although it has a few cons as an Action Camera, the YI 4K Action Camera can nevertheless serve high-quality videos and photographs in the table. Its basic features that can meet a professional's need and a low price make it a viable camera for YouTubers – starters or not. This little beast is priced at $129.95 and according to our Youtube money calculator, you'll be needing to get 75,000 video views to make enough money to pay for this camera.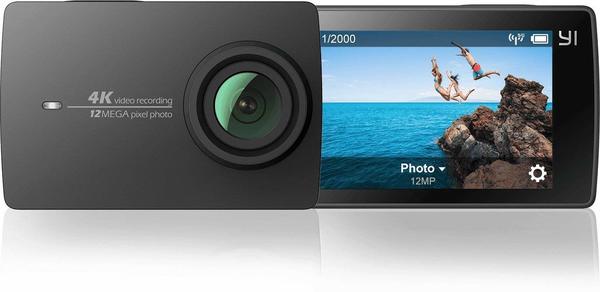 YI 4K Action Camera Features
For those who are new to action cameras or cameras in general, sports camera is one of the handiest cameras in the market. Apart from that, a sports camera that has on-point features such as high image qualities are in-demand cameras. Primarily, 4k is a very high video resolution that is higher resolution than the usual 1080P High-definition video. With these criteria at hand, YI 4K Action Camera is already considered to be one of the best. If price is your main concern, and you don't necessarily need all these features, then read our list of the Top 10 Budget Cameras under $200 for YouTubers to find the cheapest good options available.
Image and Video Capacity
YI 4k Action Camera also has a lot of different frame rates per second (FPS) options and settings to explore with. This can record at 4K/30fps (100mbps), 2. 7k/60fps, 1080p/120fps, 720p/240fps video, and 12MP raw image. 
The audio of the YI 4K Action Camera is right and fit for an action camera. In terms of audio quality, action cameras don't always have the best audio file for the content. Nevertheless, the audio is very clear and is loud enough for playback and for raw files themselves. 
This action camera has LCE7 layers that are all glass lenses, a built-in Sony IMX377 image sensor, Amarelle dual-core A9SE75, and an advanced video stabilization (EIS) feature that can capture smooth footage at 2. 7k/60fps. Such features that can give an impressive output even at the slow-motion and time-lapse condition.
YI 4k Action and Sports Camera is also equipped to capture images and videos under varying light conditions – even under low-light conditions. It also has a time-lapse feature that can run in different settings. It can capture still images up to 12-megapixel resolution which includes timer feature and burst modes. If the user would like to capture the sunrise and sunset, and maybe different natural light conditions, it is advised to set-up the white balance mode. 
The user must always update the device to its latest firmware to enjoy its extra features. YI 4K prides its flexible settings of is/WB/shutter/EV/meter for 12MP raw file. This setting would help the user create high-quality images and videos even in very low-light conditions, multi-record/capture modes, including burst, slow-motion, voice control, and the like. 
Battery Life 
Every user should consider that an action camera should be able to keep up with any of your activities – image quality and battery wise. One of the many things that the YI 4K camera prides is its' long battery life. 
It has a high capacity rechargeable lithium-ion battery, which allows the camera to record up to 120mins of 4K/30Fps video from a single battery charge. It has a large 1,400mAh battery. It managed an amazing 2hrs 35 mins once recording a 1080p HD at 30fps. The battery is rechargeable, and the user can prepare spares if needed. There is also a cooling system that prevents the camera from overheating in a long run of fun.
Interface
 Another remarkable feature of this action camera is its Intuitive Touchscreen UI. It is the 2.2 inches high responsive LCD Touchscreen. With its 640 x 360 high-resolution interface, it is very convenient to set-up, preview, scroll, playback, and shoot. The YI technology made this touchscreen very durable and very responsive with its Gorilla glass Retina. 
Wireless Transferring
It has as well kept up with the advancement of sharing technology. This action camera has an instant sharing feature, which is composed of a built-in Bluetooth and a high-speed 5GHz/2. 4GHz Wi-Fi support for wireless remote control. More so, YI technology developed a YI Action app for instant photo and video editing, sharing, and live streaming to social media platforms. 
The YI Action application allows the camera to be more flexible. This application allows wireless and immediate transferring of files and viewing and setting up in another device. Any smartphone that has this application can be an independent remote control for the camera. 
Users should have an account in the app and should make sure that the YI Action and Sports Camera is connected to the Wi-Fi. After the first-time connection, the application itself will automatically connect the camera and the smartphone under the given range. 
Once the camera and the smartphone are connected, the user can instantly set-up, edit, live-stream, view (different modes), playback, and many more. This applies to both video recording and image capturing features. With this feature, YI technology makes sure that the creative capabilities of any user are expanded.
YI 4K Action Camera Cons
YI 4K Action and Sports Camera is not waterproof. It is necessary to buy a waterproof case with this case so that it can keep up with your extreme activities. With a waterproof case, the device can survive up to 132 feet underwater – depending on how durable the case is. Nevertheless, without any case attached, the action camera can deal with different weather conditions. 
While people label YI 4K Action Camera as the "GoPro Killer," professional still strongly appeal against it. The level of color reproduction capacity between YI 4k Action Camera and GoPro Hero 4 Black are still evidently different. The vibrancy of the colors of GoPro Hero4 Black is still on a different level compared to the former camera. However, YI technology boasts the fact that captured images from the YI 4K Action Camera are crisp and sharp. 
The YI 4K Action and Sports Camera also has built-in electronic image stabilization. But to the public's dismay, it does not have a huge impact on the output. There is no such thing as a perfect action camera, but this camera is still considered to be one of the best action cameras in the market.  
YouTubers Recommendation
Some famous YouTube channels – namely Think Media, Robots – The Next Species on Earth, Sean Cannell, and TK Bay – attested to the capabilities and functions of YI 4K Action Camera. Most of them unboxed the parcel in front of the audience and reviewed the package right then and there. The parcel comes with the camera, a reader's manual, battery packs with two battery spares, an accessory pack, and its own waterproof case.
The instruction kit of the package is not only an instruction manual, but it also includes various information like what is the suitable SD Cards for the camera. The battery charger can charge three batteries at a time – a perk for vloggers who are up for a long-time running shooting. It also has a connecting cord for the camera and the laptop, an option for those who don't want to use the YI Action App. 
The accessory pack consists of a waterproof housing case, a head strap, a chest harness, a car suction cup, a bike handlebar mount, a floating grip, and many other essentials for an adventurous escapade. These accessories are basic tools to utilize the potentials of YI 4K Action Camera fully.
Takeaway
Like any other equipment, the lifespan of a camera would still depend on how the user takes care of it. Fortunately, YI 4K Action and Sports Camera is considered to be one of the most durable and high-quality Action and Sports cameras. It is known to be a convenient and user-friendly action camera that any beginner or advanced camera user can enjoy. 
YI 4K Action Camera can also be attached to a selfie stick or a gimbal for best use. It can be used for mountain climbing, snorkeling, scuba diving, skydiving, river rafting, caving, skiing, and many other fun outdoor adventures. Even if the activity may be at nighttime or daytime, under cold or hot weather conditions, this action and sports camera can survive and live up to a certain level of expectation. Any humane and extreme adventures can be captured with this YI 4K Action Camera's advanced technology.
Considering all its features, the YI 4K Action Camera is a good source of investment in stepping up a YouTube career. This camera costs around $300USD, which is half the price of a GoPro. The price is a very good deal taking into account its high-quality specs. With its performance and quality, the YI 4k Action Camera is one of the most high-performing sports cameras on a budget.